Montgomery County Veterans Service Commission was proud and honored to help lay approximately 6,000 wreaths on December 18, 2020.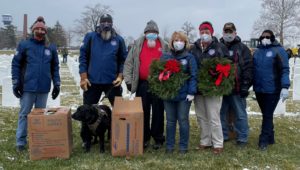 Now, on January 23, 2021 from 10:00am to 4:00pm, the Dayton Wreaths Across America and the Dayton National Cemetery Support Committee need your assistance in the Wreath Cleanup at the Dayton National Cemetery.
If you and your organization are available to assist, please meet at the tractor trailer located on Pennsylvania Avenue on the Dayton Cemetery Campus. Please dress warmly and if you know of anyone with a truck to help transport to the dumpster in downtown Dayton, that will greatly be appreciated. The more people to help with this project the better to help us complete this wonderful mission faster. Please consider sharing with your organization.