The Montgomery County Veterans Service Commission is excited to provide a holiday meal to Veterans in need. 
Veteran Holiday Meal Program
$200 Food Gift Cards to local ALDI stores will be provided on a first come, first served basis on November 18.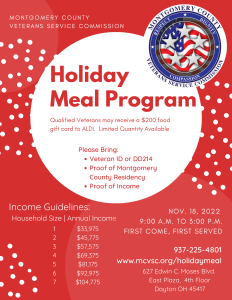 Click here for the full flyer: Holiday Meal Program 2022
The $200 ALDI Gift Card will be limited to eligible Veterans with Montgomery County Residency. There is a limit of 1 card per household. 
The event will be held on Friday November the 18th from 9:00 to 3:00 p.m. Please do not arrive early.
Visit Our Offices
Even during the COVID-19 pandemic, our office is open for visits, while observing social distancing and other safety precautions required by the State of Ohio.
We are located at:
627 Edwin C. Moses Blvd., 4th Floor, East Medical Plaza
Dayton, OH 45417
Fax (937) 222-7533
Office Hours: Monday – Friday, 8:00 a.m. – 4:30 p.m.